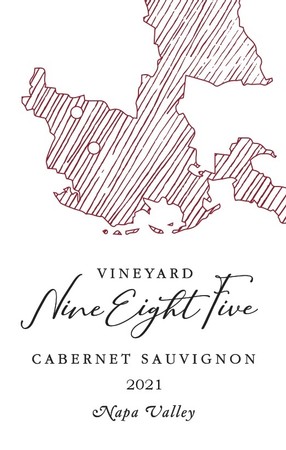 We sourced the fruit for our 2021 Cabernet Sauvignon from our winery estate located on the eastern reaches of Napa County. The winery estate is located 800ft above sea level and daytime temperatures there are typically 3-5 degrees warmer than on the valley floor.
The increased temperatures at the vineyard site contributed to complete ripening of the fruit which in turn helps create the crowd-pleasing plush flavor profiles Vineyard 985 is known for.
Winemaking & Tasting Notes
The 2021 growing season was a prime example of why Napa Valley is such a great place to grow wine grapes. The start of the 2021 growing season was colder than average with a drier than average spring.
The summer growing conditions were outstanding to say the least. These ideal conditions made for notable berry development on the vine. The fruit was hand-picked and brought into the winery in the early morning hours of October 2nd. We then employed an extended cool fermentation for a total of 10 days. The wine was then transferred to French oak barrels (65% new) and stored for 20 months in the winery's caves. This vintage consists of 87% Cabernet Sauvignon, 10% Petit Verdot and 3% Cabernet Franc.
This wine opens with enticing aromas of black current, cassis, tobacco leaf, and leather on the nose then presents concentrated flavors of black cherry, mixed berries, tobacco, and baking spices once tasted. The wine exhibits a beautiful balance between fruit, oak, and alcohol. The wine also features the featherweight tannins and long soft finish that Vineyard 985 is known for.
The wine is outstandingly approachable upon release but will perform well over the next 5 to 8 years.